Basic Radio Station Information
WFAN, The Fan 101.9
WFAN 101.9 FM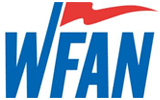 City of License:
New York, NY
Format:
Sports
Market:
New York, NY
Web site:
http://newyork.cbslocal.com/station/wfan/
Owner:
CBS Radio (Cbs Radio East Inc.)
WFAN is an FM radio station broadcasting at 101.9 MHz. The station is licensed to New York, NY and is part of that radio market. The station airs sports programming and goes by the name "WFAN, The Fan 101.9" on the air. WFAN is owned by CBS Radio.
History:
In July 2011 Merlin Media took over the station from Emmis Communications and dropped the rock/alternative format on WRXP. Artists formerly heard on the station include: Pearl Jam, Nirvana, The Red Hot Chili Peppers, Muse, Stone Temple Pilots, U2, Green Day, Kings Of Leon, Foo Fighters, Alice In Chains, David Bowie, Guns N' Roses, The Police, Cake, AC/DC, Smashing Pumpkins, Mumford & Sons, The Arcade Fire.
In July 2012 the station switched from News to Alternative music as "New Rock 101.9".
On November 2, 2012 CBS Radio took control of "New Rock 101.9" WRXP and began airing a simulcast of WFAN 660. Before the flip WRXP had huge ratings success as a top 10 station despite the fact of little to no promotions and advertising for the station.
Nearby Radio Stations
Z100
,
Power 105.1
,
Fresh 102.7 FM
,
95.5 PLJ
,
107.5 FM WBLS
,
ESPN 98.7
,
Q104.3
,
106.7 Lite fm
,
Mega 97.9 FM
,
WBAI 99.5 FM
Co-Owned Radio Stations in New York, NY
92.3 AMP Radio, WCBS FM 101.1, NewsRadio 880, Sports Radio 66 AM, 1010 WINS, Fresh 102.7 FM
Listener Comments and Reviews
Post a Comment