Radio Station Information
Air 1
WLAI 107.1 FM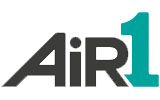 City of License:
Wilmore, KY
Format:
Christian Contemporary
Web site:
https://www.air1.com/
Live Stream:
http://www.air1.com/listen/
Owner:
Educational Media Foundation
Phone:
888-937-2471
WLAI is an FM radio station broadcasting at 107.1 MHz. The station is licensed to Wilmore, KY. The station airs christian contemporary music programming and goes by the name "Air 1" on the air. WLAI is owned by Educational Media Foundation.
Most Played Artist
Skillet, Switchfoot, Jeremy Camp, Kutless, Hawk Nelson, TobyMac, Sanctus Real, The Newsboys, Brandon Heath, Anberlin, Relient K, Third Day, The Afters, Chris August, BarlowGirl, Lifehouse, Jars Of Clay, Chasen, Matthew West, Beckah Shae
Nearby Radio Stations
Hot 102
,
WVRB 95.3 FM
,
Relevant Radio 1380
,
WLRT 1250 AM
,
WCGW 770 AM
,
WRFL 88.1 FM
,
WCDA 106.3 FM
,
WXCN 99.7 FM
,
98.1 The Bull
,
WLXL 95.7 FM
Listener Comments and Reviews
Currently there are no comments about this radio station. Share your thoughts about this station in the form below.
Post a Comment