Radio Station Information
Alice @ 97.3
KLLC 97.3 FM
City of License:
San Francisco, CA
Format:
Hot AC
Market:
San Francisco, CA
Web site:
https://www.audacy.com/radioalice
Live Stream:
https://www.audacy.com/radioalice/listen
Owner:
Audacy (formerly known as Entercom/CBS Radio) (Audacy License, LLC)
Phone:
415-765-4097
KLLC is an FM radio station broadcasting at 97.3 MHz. The station is licensed to San Francisco, CA and is part of that radio market. The station broadcasts Hot AC music programming and goes by the name "Alice @ 97.3" on the air. KLLC is owned by Audacy.
History:
With the merger of CBS Radio and Entercom completed on November 17, 2017, the station became part of the new combined Entercom.
HD Radio:
KLLC-HD1 Hot AC, KLLC-HD2 Chill
Station Coverage Map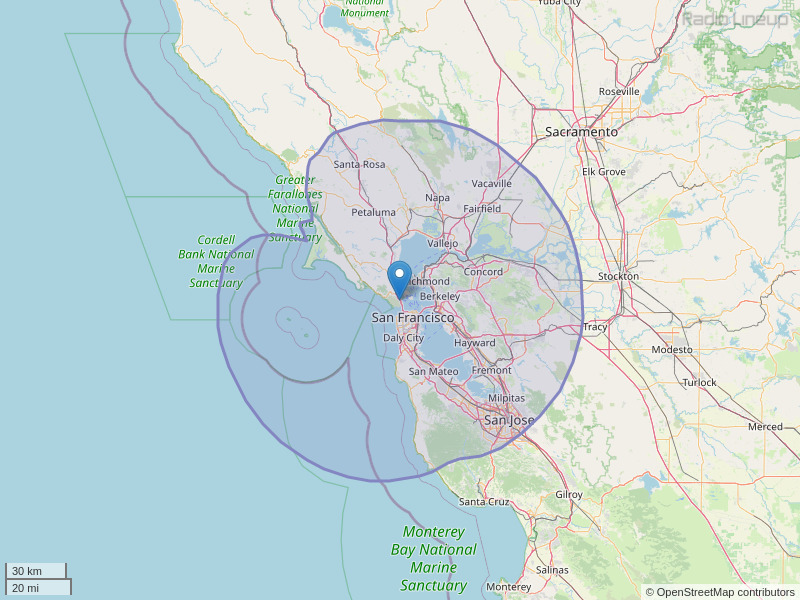 Most Played Artist
Pink, Katy Perry, Train, OneRepublic, Lifehouse, The Script, Florence & The Machine, Adele, Neon Trees, Plain White T's, Coldplay, John Mayer, Linkin Park, No Doubt, Maroon 5, Goo Goo Dolls, Green Day, Sara Bareilles, Bruno Mars, Alanis Morissette
Nearby Radio Stations
KPEA 100.1 FM
,
KCBS News Radio 106.9
,
KDFC 90.3 FM
,
98.1 The Breeze
,
102 Jams
,
KGXY 99.3 FM
,
KPOO 89.5 FM
,
KQEB 96.9 FM
,
Radio Estereo Sol 98.9
,
96.5 KOIT
Co-Owned Radio Stations in San Francisco, CA
KCBS News 740, KCBS News Radio 106.9, 95.7 The Game, Channel Q 1550, 105.3 Dave FM, 102 Jams
Listener Comments and Reviews
Currently there are no comments about this radio station. Share your thoughts about this station in the form below.
Post a Comment