Radio Station Information
95.5 The Mountain
KYOT 95.5 FM
We Play Everything in Phoenix!
City of License:
Phoenix, AZ
Format:
Adult Hits
Market:
Phoenix, AZ
Web site:
https://955themountain.iheart.com/
Live Stream:
https://www.iheart.com/live/57
Owner:
iHeartMedia (Ihm Licenses, LLC)
Address:
4686 East Van Buren Street, Suite 300
Phoenix, AZ 85008
Phone:
602-374-6000
KYOT is an FM radio station broadcasting at 95.5 MHz. The station is licensed to Phoenix, AZ and is part of that radio market. The station broadcasts Adult Hits music programming and goes by the name "95.5 The Mountain" on the air with the slogan "We Play Everything in Phoenix!". KYOT is owned by iHeartMedia.
History:
In mid-2011 the station dropped Smooth Jazz music and transitioned to variety hits as Eva 95.5.
Later after 98.7 flipped to a simulcast of KTAR-AM and dropped variety hits (98.7 The Peak) 95.5 took over the format for the Phoenix Market.
Station Coverage Map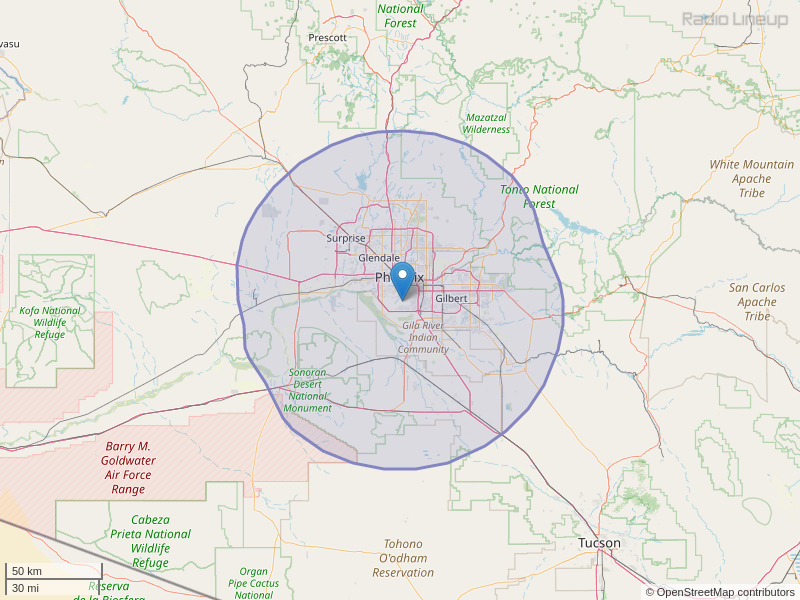 Most Played Artist
Sade, Stevie Wonder, Anita Baker, Earth, Wind & Fire, Michael Jackson, Santana, Mariah Carey, Seal, George Benson, Marvin Gaye, Kenny G, Alicia Keys, Toni Braxton, John Mayer, Whitney Houston, Aaron Neville, Paul Taylor, Luther Vandross, Sting, Barry White
Nearby Radio Stations
K229DB 93.7 FM
,
K270BZ 101.9 FM
,
Mix 96.9
,
KMLE Country @ 107.9
,
104.7 KISS FM
,
Big 94.5
,
Oldies 92.7
,
KFLR 90.3 FM
,
Alt AZ 93.3
,
99.9 KEZ
Co-Owned Radio Stations in Phoenix, AZ
99.9 KEZ, 550 KFYI, Fox Sports 910, Mix 96.9, 102.5 KNIX, 93.7 El Patron, 104.7 KISS FM
Listener Comments and Reviews
Post a Comment