Radio Station Information
Fun 101
KRFN 100.9 FM
City of License:
Sparks, NV
Format:
Adult Contemporary
Market:
Reno, NV
Web site:
http://www.renosfun101.com
Owner:
Evans Broadcasting Company (Evans Broadcast Company, Inc.)
KRFN is an FM radio station broadcasting at 100.9 MHz. The station is licensed to Sparks, NV and is part of the Reno, NV radio market. The station broadcasts Adult Contemporary music programming and goes by the name "Fun 101" on the air. KRFN is owned by Evans Broadcasting Company.
History:
September 2011: Station KRZQ 100.9 dropped alternative rock music and relaunched as Hot AC Mix 100.9.
The Bandit moved from 92.9FM to 100.9FM.
Former top artist as KRZQ Alternative include: Linkin Park, The Red Hot Chili Peppers, Muse, Kings Of Leon, Green Day, Weezer, Incubus, Cage The Elephant, The Black Keys, U2, The Offspring, Foo Fighters, Cake, The Killers, Sublime, Pearl Jam, Smashing Pumpkins, Nirvana, The Beastie Boys, Jimmy Eat World. Formerly 100.9 K-Rock and 100.9 The Bandit.
Station Coverage Map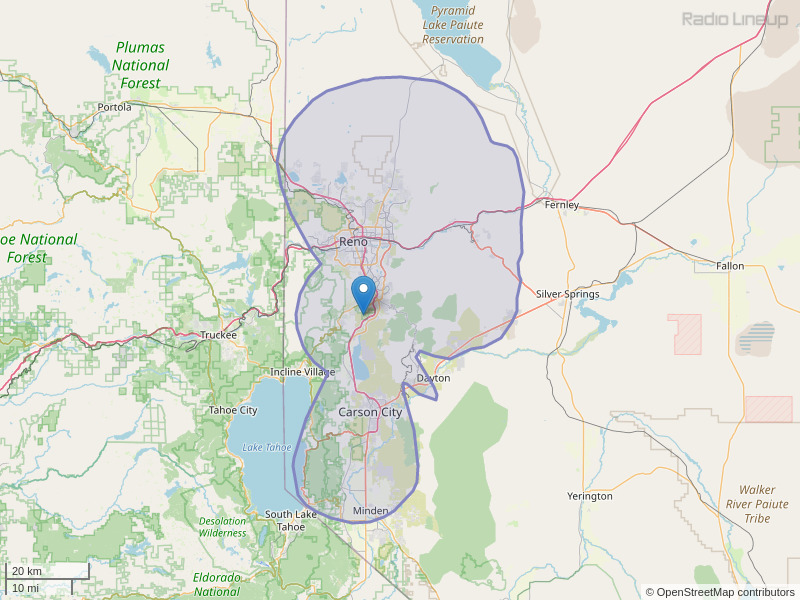 Nearby Radio Stations
105.7 KOZZ
,
Radio Lazer 107.7 & 105.3
,
Rock 104.5
,
Wild 102.9
,
KKTO 90.5 FM
,
Sunny 106.9
,
Alice @ 96.5
,
KODS 103.7 FM
,
KNIS 91.3 FM
,
100.1 We FM
Co-Owned Radio Stations in Reno, NV
Listener Comments and Reviews
Post a Comment